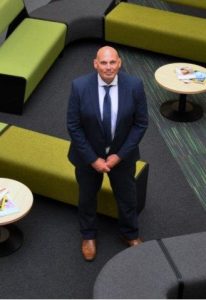 As Executive Headteacher, I am privileged to have been given the opportunity to work with the academy staff and students at The St Lawrence Academy on the next stage of its journey. The academy must always be a place where students feel safe and have a real sense of belonging. Students need to grow the confidence to be creative and to express themselves. They must also be inspired and motivated so that they work hard and to realise their full potential.
We value all our students and their learning experiences in the academy. I want learning and teaching in the academy to be enjoyable, creative, innovative and highly effective. Our dedicated and enthusiastic staff have high aspirations and challenging expectations of our students, and of the academic progress they need to make.
We need parents and carers to work with us to ensure that students have the best chance to gain skills and qualifications at the best possible grades. We also want you to join us often to celebrate our students' successes in the academy.
Our students are our ambassadors and we will encourage them to take on leadership responsibilities and to get involved in student voice activities and community projects. Our students will also be our future leaders, who will help to shape and improve our community and the world around us. Therefore we are determined to help them be the best.
I look forward to meeting you soon.
Mike Adnitt
Executive Headteacher