Everything wrong about the perception of state schools was included in an article in The Times – but my faith was restored by a perfect riposte from a former pupil.
Columnist Emma Duncan, in an article headlined 'We're hurting Oxbridge in the name of equality',  had her argument dismantled by Gordon Dougan in one tweet.
He responded (see below) by saying he was born on a Scunthorpe council estate, went to state school (this one) and became a father at 20.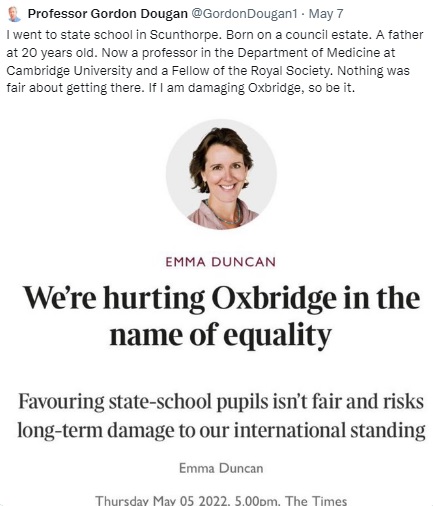 He is now professor of Medicine at Cambridge University and a Fellow of the Royal Society.
"Nothing was fair about getting there," he says on Twitter. "If I am damaging Oxbridge, so be it."
I could stand and applaud.
The article made me feel so angry – and Prof Dougan's reply, so proud.
The professor, an alumni of this school, is an award-winning expert on infection, vaccines and genomics. Wow.
He did not let what people say is a disadvantaged background get in the way of him becoming a renowned expert in his field across the world.
On the back of this, it is worth reiterating again: Our young people at this Academy can do anything and we will do all in our power to support them achieve it.
We do not want to see them put off by the likes of Emma Duncan, blocking their progress and putting further barriers in their way.
We aspire for all our students to leave here to do great things.
An example is a Year 11 who has been offered a place at one of the UK's leading independent schools, Gordonstoun in Scotland, on a full scholarship.
That is really important to us. One of the nation's top education providers is allowing our young people a chance to do what they want.
The messages delivered by former alumni can be powerful. Remember Prof Stephen Westaby, who became one of the world's pioneering heart surgeons and an award-winning author?
The main hall is now named in his honour following his visit in 2019.
I would like to hear from more alumni. They may be reading this blog, sitting in another part of the world. Or they may be more local and have an equally compelling story to tell our students. Please do get in touch. I would love to hear from you.
I wonder what those Year 11 students who attended Valediction last week will be doing in a few years time?
Thank you to the parents who joined us at a packed event to celebrate academic success.
It was a fantastic occasion and students, at the end, did not want to go home, with lots of selfies with staff, family, and friends.
The night celebrated five years of educational achievements and their potential grades. All we can do is wish them the best of luck in their exams.
The event was another great representation of what we do here.
I was also proud of our latest visit in our efforts to support primary schools. We have been responding positively to requests to share our teaching on collective worship and diversity.
Primaries, some feeder schools and others further afield, have been interested in how it can be taught, delivered and understood in their local communities. It is something on which we have great experience.
We have taken students to six primaries over the last six months and some have visited us. The feedback has been fantastic and our young people have been a credit to this Academy, their families, and themselves.
Another group who excelled were the Year 10 footballers, beaten 5-4 after a late goal, in the final of the Humberside Schools under 15 cup final at Glanford Park in front a big crowd, including parents, friends and staff.
Congratulations to winners Withernsea but our boys were brilliant and came off the pitch with their heads held high.
They were further, fine examples of everything that is right with a state school.