We have had a great start to a new term during which things will be a little different.
I have been proud of how the students have continued to respect social distancing and mask wearing in the ongoing battle against COVID-19.
I would like to wish Year 11s 'good luck' for the first of two, one-week test cycles.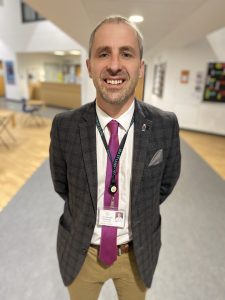 With no formal examinations taking place, the results will be used to give them their grades.
I have been really impressed by their engagement and preparation for the tests.
They have a confidence and calmness about them, which makes a pleasant change from the usual high levels of anxiety caused by exams.
Credit must be given to the team of staff which has helped them prepare. The tests are important, but the work done beforehand is more so.
As one year group comes towards the end of its 11 years of schooling, another is preparing to join us.
We are really looking forward to welcoming Year 6 in the coming weeks ahead of starting in September.
The year group is full beyond capacity and we are fortunate our community and families continue to choose us.
We have launched a specific website on transition, essential reading for Year 6 children and parents.
It contains a huge amount of information and will help reassure students about their switch to secondary school.
Year 10s were sent away at Easter with details about being a prefect. It is a fantastic leadership opportunity and always popular.
It is a year group which continues to impress staff with its attitude and we look forward to receiving a large number of prefect applications.
Not everybody will be successful but it is important to aspire and for students to put themselves in the shop window.
Year 9s are looking at their options for the next two years.
It is the first time in their lives they will make decisions that will affect their college chances and career choices.
It is important, therefore, they have conversations with staff about what they would like to take and what they, not their friends, are interested in.
The PE department is looking to offer extra-curricular clubs, in a COVID-safe environment. They are excited about offering these opportunities and the students about taking them up.
As I said, things will be a little different this term.