We have returned after the holiday to attendance reaching its highest point since before the pandemic.
It is a pleasing statistic as schools nationally have struggled, with attendance averaging around 87% to 89%.
We have been consistently above those levels for more than seven months and the latest figures are encouraging. But we are not complacent.
Our stronger attendance is, I believe, a consequence of parents and children having the confidence in school.
Our young people are re-energised and have a trust in the Academy. They know it is the right place for them to be.
Schools have a vital role to play in education across the board. To illustrate the point, we have produced the Character Education Learning Journey.
This one graphic, that has attracted strong traction on social media, demonstrates the range of topics children learn in their time at the Academy.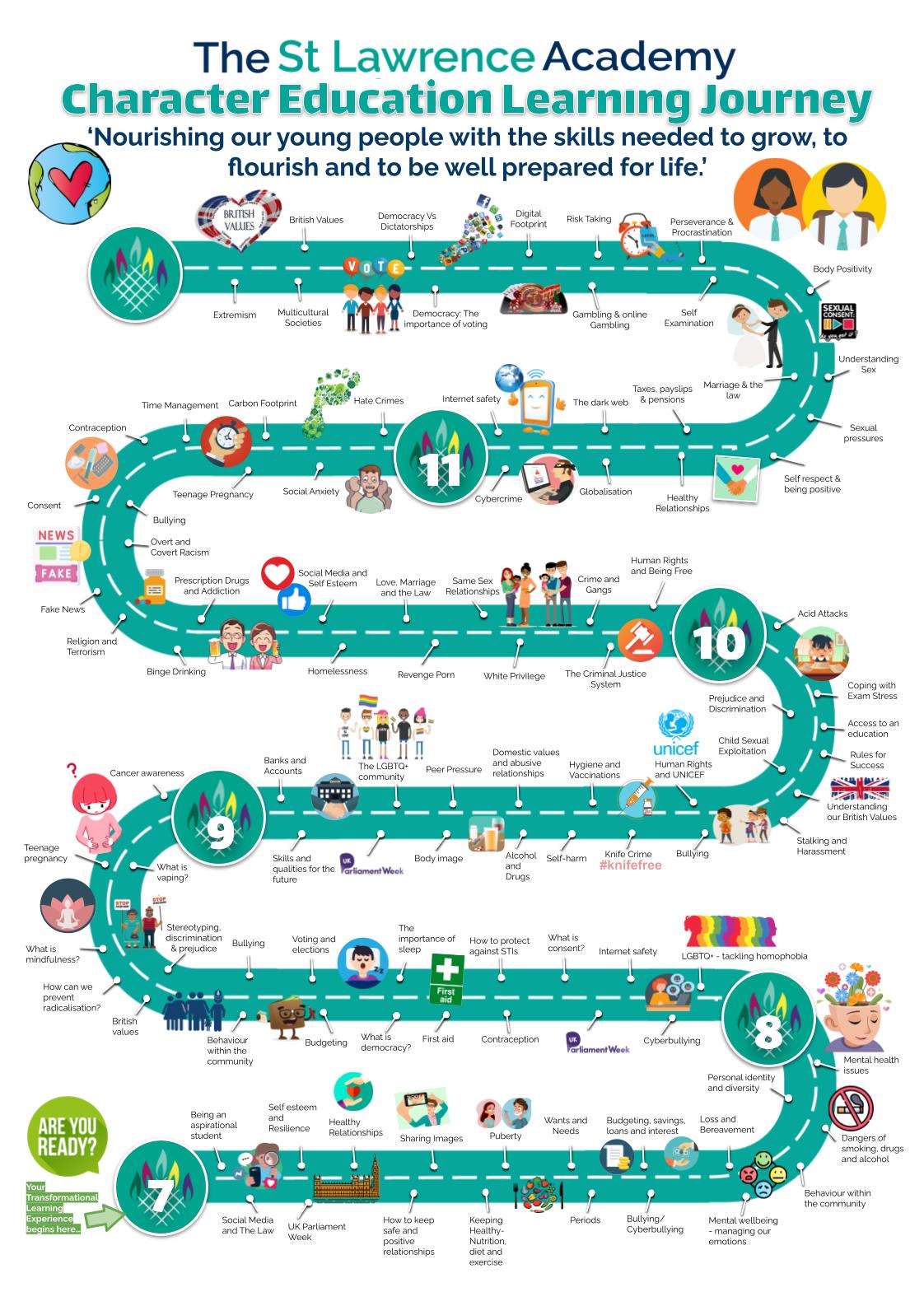 It is above and beyond the normal subjects you expect to be taught in school.
This is about giving our young people crucial knowledge that will help them develop into first class citizens and role models.
I am really proud of the Character Learning Journey we provide from the point children step into The St Lawrence Academy in Year 7 to the moment they leave in Year 11.
It is important parents / carers know what their children are being taught in school goes far beyond the national curriculum. We are developing the whole child.
Our prefects are perfect examples of what I'm talking about and they have been selected for the 2022/23 academic year.
Their formal presentation as prefects – when they will be awarded their tie and badge – will take place on Thursday, 12th May, from 5pm. Parents / carers are being invited.
Mr Murray is leading on interviews to select the head prefects, who will also be announced at this ceremony. I am also involved.
Each of our prefects have put themselves out, helped others and enriched life at the Academy.
Their reward has come in being announced prefects. Each are fantastic ambassadors and role models, inspiring younger students to follow in their footsteps.
The prefect ceremony is just one of the events that make the summer term the busiest in the academic year.
Many events take place in the evening and involve parental support in one way or the other (see below).
Tonight, for example, it is the Year 9 Options Evening, the first time in their education children can choose subjects they wish to pursue.
It is vitally important families attend and support their children in making the right choices.
Events are communicated via our Arbor system, which has now been downloaded by more than 50% of parents / carers. We want that figure to be 100%.
The app is simple to download and easy to use but if you would like help, please email  [email protected]
A reminder that it is a Bank Holiday on Monday (2nd May) and the Academy will be closed.
Finally, Year 11 are in their final weeks at the Academy before their next step.
There are a plethora of revision sessions to support them with their GCSEs and all should be attending them.
Any parents unsure as to what sessions are available should get in touch.
This is a crucial time for the home-school partnership, working together to ensure those children make the right choices and are prepared for what is to come.
Good luck everyone.
Dates for the diary:
Wednesday, 27th April – Options Evening for Year 9
Thursday, 5th May – Year 11 Valediction
To be confirmed – Community Café
Thursday, 12th May – Year 10 Prefect Ceremony
Wednesday, 18th May – Year 10 Parents Evening
Friday, 24th June – Year 11 Leavers Event
Monday, 27th June – Sports Day Years 7-10
Thursday, 30th June – Year 6 Induction Evening
Monday 18th, Tuesday 19th, Wednesday 20th July – Y7/8/9 Celebration Evenings