It felt great to be back at full capacity on Monday.
School has been vibrant and busy, almost like normal. It is good to see children happy and pleased to see friends and staff.
We have hustle with a bustle. You can forget how important that is to a school and its community.
I think we are getting the provision right. Staff, students, and parents are working together to make the best of it.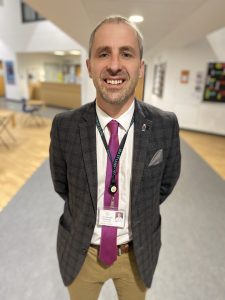 But it is not easy for any of us. We are allowed to struggle to get back into a working and learning routine.
That is why it is important we help and support each other, recognising there are issues beyond the school gate which may make school life more difficult.
That is okay and we understand.
Generally, the students have adapted well to the new-look classroom and style of learning.
We are not putting students through tests, rather teaching them content and skills, and helping them with their aspirations.
All our students, including 11-year-olds, can tell me a career that interests them.
The other day, one described wanting to be a joiner while the girl next to him knew the subjects she needed to take to fulfil her ambition of becoming a vet.
Our job is to help them get there.
It is reassuring our students have retained high aspirations and goals even though we are in the middle of a pandemic. They are not going to let it get in the way of their dreams.
Those conversations suggest our extra-curricular activities around careers, such as our Futures programme, are working well.
I would like to again thank those families who have picked up COVID-19 testing kits and are supporting their children use them. The more who do so, the safer we are.
We have read Government guidance on testing over Easter and will be communicating further now we have finalised our plan of how the extra testing kits can be collected.
Finally, just to confirm a commitment I made to Year 11s last week.
They will be given details around the teacher-assessed grades process tomorrow and Friday.
We do not want them worrying unnecessarily and staff will be there to support and guide them.
We will get through the process together.