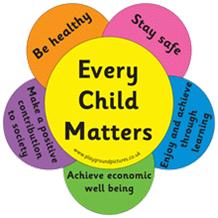 The rationale of this policy is in line with the agenda for reform as set in Every Child Matters. Our primary aim is to scaffold the five outcomes of Every Child Matters so that every child in The St Lawrence Academy has the chance to fulfil their potential whilst:
Being protected from harm, kept safe
Being encouraged to stay healthy
Being encouraged to enjoy and achieve.
Being encouraged to overcome all barriers to achievement, economic awareness.
Being encouraged to make a positive contribution to our community and to society.
Introduction
At The St Lawrence Academy, we believe we play a vital role in ensuring that our students grow and develop in an environment which promotes the emotional, social, moral and spiritual well being of each of our students. We recognise that all adults have a full and active part to play in promoting the five outcomes of Every Child Matters and so we continuously attempt to ensure that:
All students feel secure, valued, are encouraged to talk and are listened to.

There is an ethos of mutual respect which underpins all relationships.

All adults are made aware of their responsibilities in safeguarding children and take these responsibilities seriously.

All adults provide suitable welfare and guidance to students or are able to locate and direct students to named staff who are able to offer guidance in line with their responsibilities.
Aims
Our aims serve to develop these principles:
To raise awareness of all staff of the need for procedures which support vulnerable or at-risk students and of their responsibilities in identifying and reporting possible cases of concern or abuse.

To have a structured internal procedure that is followed by all staff which can be used with all cases of concern or suspected abuse or in response to a disclosure or legation.

To develop and promote effective inter-agency partnerships in particular with Health Services, Social Services and the Police.

To promote a systematic means of monitoring children who are vulnerable or are known or thought to be at risk of significant harm.

To address issues of vulnerability and Child Protection within the curriculum so that children are more aware and are able to protect themselves.

To support our students by developing their self esteem and assertiveness skills without condoning aggression or bullying.