Welcome to my first weekly blog.
As you are aware, Mr Adnitt has switched role to Executive Headteacher. He continues to support, advise, and challenge but is responsible for more than this academy.
His weekly blog has been well read and received. I hope mine will be too.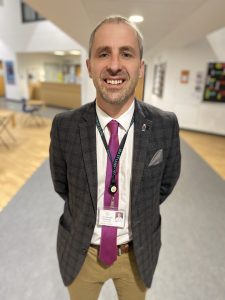 We always knew it was going to be a busy two weeks and so it has proved.
Unfortunately, three positive tests have meant an early return to home learning for some.  It is something we had hoped to avoid but the figures reflect what is going on in the wider community.
It reminds us all that we need to stick to the rules and procedures, in and out of school.
We must follow the advice around good hygiene and wearing face coverings.
School will be undertaking its last lateral flow tests tomorrow (Thursday), meaning all year groups have been tested three times since their return.
The Government is expecting students to self-test at home twice a week to help keep everybody safe.
Now many students have experienced the test, we hope as many as possible will take up the opportunity to self-test.
Parents have been invited to pick up the kits from school and there has been a good response. We want them to contact us if they have any questions or concerns.
The guidance has not changed if a student is feeling ill or showing any COVID-19 symptoms. They should stay at home, get themselves tested and, if necessary, self-isolate.
To beat this pandemic, we cannot relax.
If we all do our bit and reduce infections, we can look forward to getting back to something like normal.
As a senior leadership team, we are planning for after May half term, with after-school clubs, trips, and visits from companies to the academy. We hope this planning comes to fruition.
I am conscious how Year 11s are to be assigned grades has still to be finalised.
Teachers' assessments will take on board tasks undertaken in a classroom and not under exam conditions.
We will communicate exactly how this will work to Year 11s and their parents within the next week.
Given the uncertainties, Year 11 has been brilliant. I would also like to thank parents for their support, patience, and trust.  We have had a lot of messages and kind words.
What this whole experience has taught us is how much our students value education and being in school.
We are committed to beating COVID-19 and beating it together, returning to all the great things that happen at this academy.
We will get there.